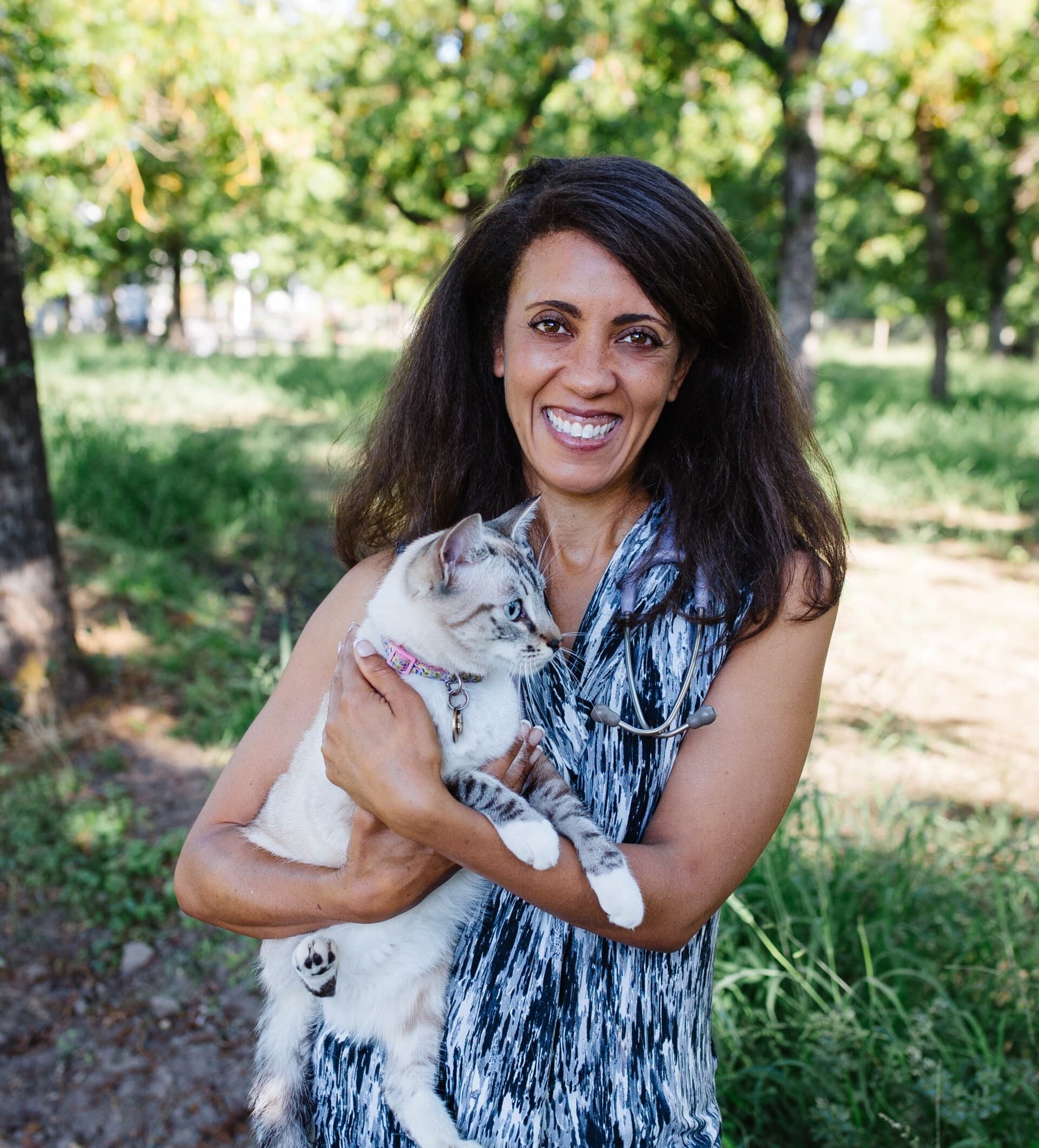 A Day in the Life of an Independent Euthanasia Vet
How many of my typical days can look during a normal week.
September 23, 2022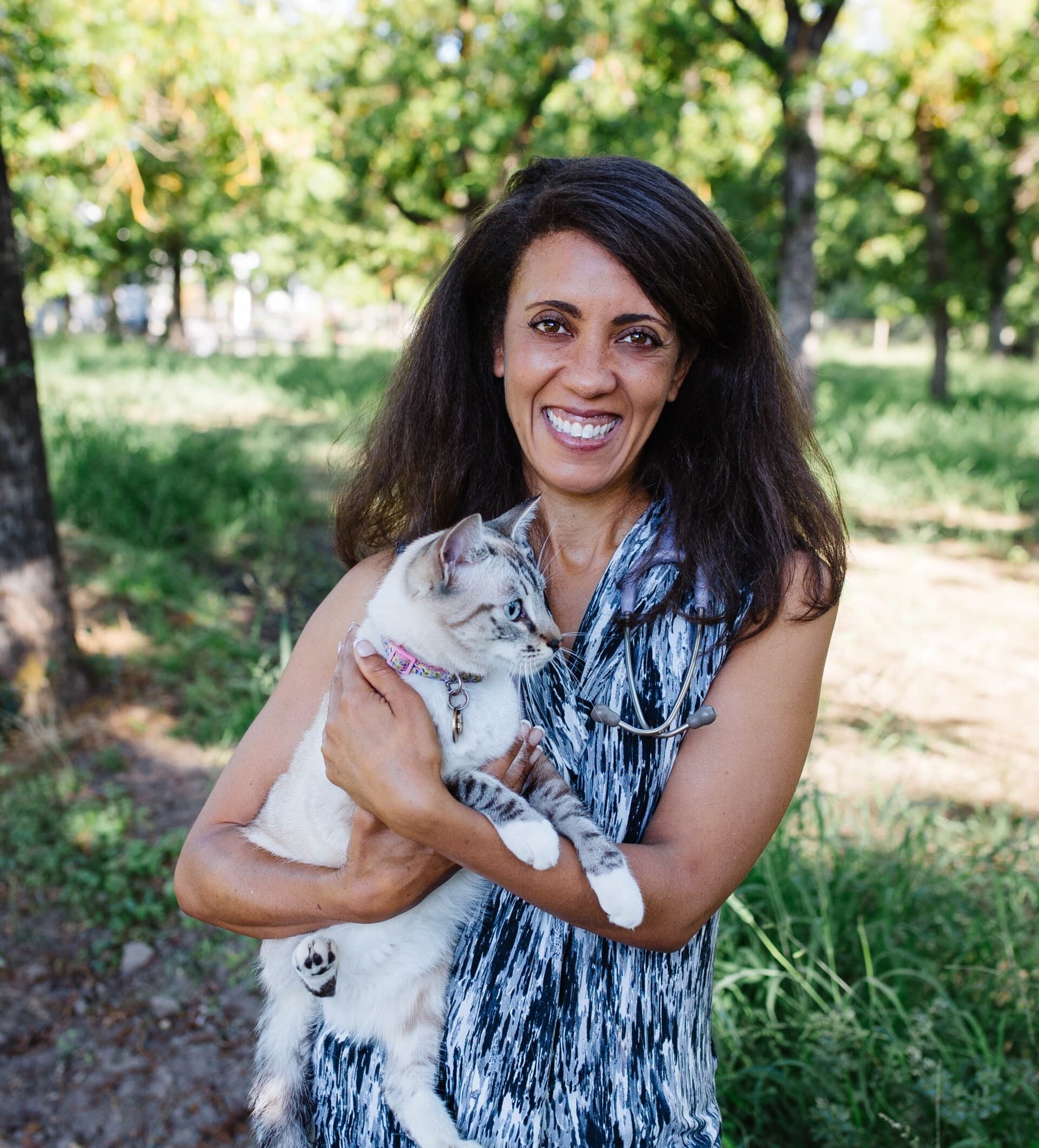 Wednesday May 4th, 2022
6:30am
I woke up and checked my phone for emails and messages. There was a request to fill my last available appointment for a large 12 year old Rottweiler that's wasn't eating or walking sadly. After checking my phone, I read a devotional, made my bed, and got dressed for the day.
7:30am
This day, I had a zoom meeting which ended a little early. After the meeting, I reviewed my plans for the day. I wrote a list of things to do on my little notepad (yes I still prefer paper lists), including my upcoming appointments. I then reached out to my clients to confirm our appointment times and to answer any questions they may have had. To me, this is normal, but for my clients, these are big steps so I try to make sure they feel at ease as much as possible.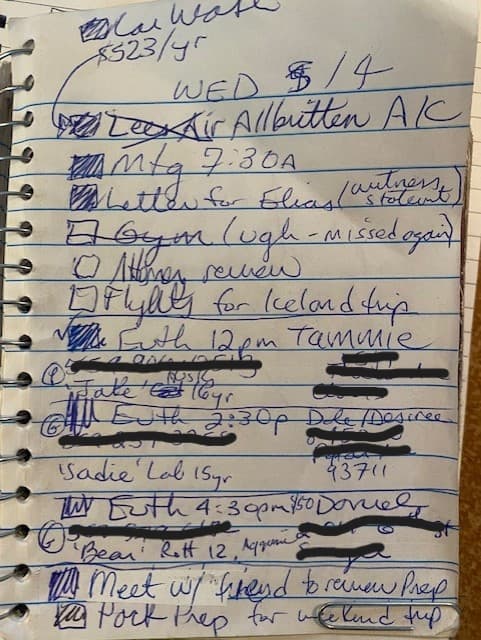 Occasionally, a pet passes or has a miraculous improvement and the owner would like to cancel or postpone our appointment. This seems to happen more often when the client books an appointment more than 5-7 days in advance – and this day, that happened. After reaching out to clients, I finished up paperwork that was left from the day before. Sometimes it gets backed up, but it's nothing like clinic work so I always feel grateful for that.
9:00am
I started preparing for my backpacking trip this weekend with three friends and I are doing as a last minute scouting trip to hopefully lead a larger, beginner group in the fall. We planned to leave early Friday and return Sunday. It's times like these that I really appreciate that I have a flexible schedule that allows me to make plans I want when I want to.
10am
When trying to confirm my last appointment on this day, I noticed that the owner (my 4:30pm who made the appointment early that morning) gave a phone number which was incorrect. The area code was off by 1 number. Luckily, they provided an email address so I reached out to all combinations of the phone number by 10am as well as the email address hoping that they'd contact me to confirm the appointment. Normally this isn't an issue as my first two appointments confirmed through text messages quickly.
I choose to schedule my appointments every 2 hours which works well for where I live (central location) and where my clients live. It accommodates the average one hour appointment time plus the 30 minutes before and after for travel and pet aftercare. This works well for about 95% of my appointments and I'm happy for it to run over on the other few. The last two days however, I had two appointments that fell into the 5% category. For the first appointment, I had spoked to the client about alternatives and this caused hesitation in their decision which they needed to discuss further. It was a 2 year old Frenchie/x which became acutely paraplegic three days prior. The young couple didn't have the emotional or time resources to care for the pet and ultimately decided they were ready to proceed. I supported their decision and we helped their beloved pet pass peacefully in their arms. The second appointment was a young lady that was very attached to her 17 year old cat with chronic renal failure and we proceeded at her and her kitty's speed and helped her pass peacefully on her owners couch. The owner desired individual cremation and the return of cremains which happens about 30% - 40% of the time.
It was a beautiful day and after doing a little paperwork, packing for my backpacking trip, watching some news programs on YouTube and doing a little gardening I went on with the next appointment on my calendar.
‍
11am
I grabbed my euthanasia clipboard (containing extra consent forms, labels, pens, cremation price form and receipt book) and headed to the car wash. As clients frequently come to the car to help transport their pet and say their goodbyes in most circumstances (about 75% of my clients request that I handle aftercare), I like to maintain their trust and positive experience with a clean and well operational vehicle.
‍
12pm
My first appointment was a Husky named Jake who was 16 years old and the owner estimated his weight between 31-60lbs. The client requested private cremation and wanted his cremains returned. He was a sweet dog for his breed and was a vigorous licker of any skin he could reach. He was nearly quadriplegic and couldn't walk without significant assistance. His owner had him all his life and was heartbroken, but didn't want to let him suffer any longer. I supported her decision and we helped Jake pass quietly with dignity in his fluffy bed by the fireplace. The owners were very grateful he was allowed to pass at home and admitted a bit of relief that he was no longer suffering and passed in his sleep. As we gently wrapped Jake in his favorite blanket on the pet stretcher, the owner told me (the most common comment I hear) that 'he just looks so peaceful and like he is sleeping'. As we were settling payment, the owners mentioned their kitchen remodel and gladly gave me a few paint chips of the colors they used. I loved the colors and they seemed quite happy to share. After placing Jake into my car, I reiterated what would happen next and how soon it would be before Jake would return home. The owners thanked me and told me they would let everyone know about what an amazing experience they had.
2:30pm
My next appointment was a sweet elderly couple with a dog named Sadie. She was a 15 year black lab that had been poorly ambulatory for a few months. She was not aware of my presence even when I approached her but she was intensely eager for treats. Sadie was the husband's companion and previous bird dog, which made it so hard for him to say goodbye that he decided not to be present for the process. I then discussed Sadie's poor quality of life and that she at least found comfort in treats. The owners knew this but needed reassurance that we were making the right decision. Within a couple of minutes of administering the sedation through a very small needle, Sadie was sound asleep with some chicken tidbits still on her lips. The owners were again very grateful that Sadie got to be at home, where she always loved to be. I reviewed the signed consent form and noticed that the owner did not mark the checkbox to receive a paw print keepsake. I wanted to make sure it wasn't overlooked and verified that the owner didn't want a pawprint. She said they had Sadie's memories to give them comfort. The owners requested communal cremation (no cremains returned).
4:00pm
As I was finishing up my second appointment and preparing Sadie for the crematorium, my last appointment texted me that his pet, the 12 year old, 100lb Rottweiler named Bear, had passed away but that he still needed cremation and deceased pet transport services.I texted my condolences and told the owner I would head his way as soon as possible. This client was outside my service area of about 15 miles and I had previously let him know of the travel fee to which he agreed.
Upon arrival at 4:25pm, the owner had covered his dog with a blanket in anticipation of my arrival. I could see that he seemed a little distraught about the situation. I handed him my clipboard so he could complete the disposition request form while I placed the pet on the sheet he provided and positioned and secured onto the stretcher. Since my stretcher has wheels on one side, I was able to transport the dog to my car area fairly easily along the concrete driveway. After completing the paperwork, he helped me lift Bear into my car which took only about 10 seconds. The owner wanted communal cremation. I gave my condolences and explained where Bear was going and that he would be cremated with other dogs and cats whose owners have elected that option and afterwards, the group ashes would be scattered on the crematorium fields. He was grateful that I offered this service and I headed home to prepare Bear for his next journey to the Crematorium.
‍
5:30pm
Since my last appointment was switched to a 'Deceased Pet Pick Up', I finished my day of appointments earlier than expected. After finishing patient care and ensuring proper labeling and double checking that owner wishes for private cremation are correctly recorded, I completed my drug logging for the day, restocked my bag and finished by around 6pm. We vets have all heard of the horror story of a pet being mislabeled or accidentally communally cremated whose owner wanted private cremation. I am quite paranoid of that happening and so far, after over 1500 pets, I have not yet had that happen. When I work with a crematorium, I visit in person and watch their process like a Federal inspector and critically analyze any point in the process where a mistake can be made. I then review what i feel could be weak spots with the crematorium labeling system and additionally add my own labeling system. Most of us vets are mortified at the idea of having to call an owner and tell them that their pet was accidentally communally cremated and they would not be getting their pets ashes back.
Evening
For the rest of the evening I relaxed and fiddled around at home preparing for my three day backpacking trip. Before I went to bed that evening, I checked my schedule for the next day. As of that evening, I had all 4 slots taken, though I needed to speak with one of the appointment clients because I needed to understand the pet's situation further. She mentioned on the booking request that her 5 year old Great Pyrenees had severe skin issues and they weren't able to get help and felt the dog was suffering. I called the owner to further discuss the pets quality of life, the owner's ability to help the dog as well as options that were other ways to help. Spoiler alert* The owners were grateful for the call and found a vet clinic that was open and able to help. Since that appointment was canceled instead of opening up the appointment for another request, I canceled the appointment slot to get some more shopping in for my trip early Friday morning. That freed up a few hours to pick up some groceries, wander around REI®.
From Sunday to the end of Thursday, I helped a total of 13 pets and their owners which was past my personal aim to help 10-12 pets per week. This serves me well financially, emotionally, and from a time commitment level. I choose to see two to three pets per day and I take a non negotiable day off on Saturdays, my family day.
I still have those pesky student loans, but the flexibility and financial benefits that offering this service has provided me has made me feel like I'm in retirement! On Mondays' I regularly volunteer at a community food bank which I enjoy doing. The next month I offered to volunteer a half day of vet services to the homeless who have pets that need basic care. I had also planned a trip to Iceland which I was very excited about. I have loved the financial and time freedom that offering this valuable service has provided me — not to mention the incredibly grateful pet owners I get to see every day! The week before this I had received a small bouquet of flowers, a beautifully hand illustrated children's book of the dog (Jessie) I euthanized and a $40 tip for dropping off the urn. Yes, I love the quality of life this 'job' has given me.